Interesting Finds
I occasionally come across an interesting Vintage Aerial photo of something other than buildings.
These photos are arranged in alphabetical order by county name, then by state, then by year, and finally by roll/frame. Photos with a green border have been geolocated (see the Vintage Aerial photo page for location information).
click on a photo to go to it's Vintage Aerial webpage
A large dark plume of smoke
A drag strip with a race in progress
Military squadron
Windsurfer
Radar dome
An accident scene investigation
A harbor full of boats
Horse racing track
A docked sea plane
Another docked sea plane
Buffalo (aka American Bison)
Military(?) cargo plane
An airport
At the plane gas station
Barges at a lock on the Mississippi
Dam and lock on the Mississippi
Flying really low!!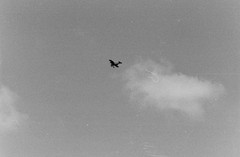 A flying plane
Commercial fishing boats
Communications tower
Skowhegan State Fair
A dam
An homage to Mercury 7
Railroad parking lot and turn-around
Small dam and possible mill
The Goodyear Blimp
---
Other Vintage Aerial photo galleries: